10/13/2015 events
No Events Scheduled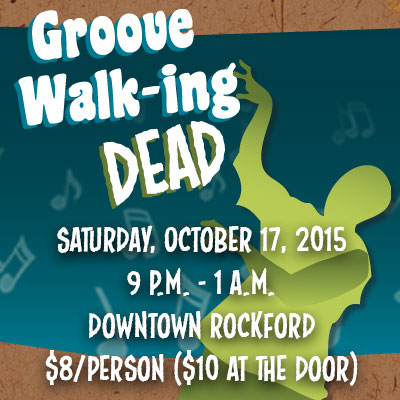 Groove Walking Dead
October 17, 2015 - 9 p.m. to 1 a.m.
Downtown Rockford
$8 in advance / $10 at the door
A night of great music featuring 15 bands at 15 venues. Costume contest.
Venues / Music
Abreo: Olivia Dvorak
Carlyle Brewing Company: Starlilte Radio
CJ's Lounge: Missing Links
Deli Italia: Franky's Cafe and the City Boys
District Bar & Grill: AudioDrive
Irish Rose Saloon: jf gaziano & beat merchants
J Bears: Secret Serenade, Geonarik
J.R. Kortman Design: Live DJ
Kryptonite: Mono in Stereo, King of the Demons
Magpie: Event "Deadquarters", Costume Contest, Surprises
Mary's Place: Bare Bones
Octane Interlounge: Minimal
The Office: Radio Stars
Verdi Club: Men of Our Times
Vintage@501: Fresh Hot Fritters
---
Nominations for the 25th Annual RAMI Awards
The nomination procedure has changed to include more participation from the membership in choosing nominees and selecting those to be included on the ballot. Click here to download a summary of the new nomination procedure.
RAMI Nomination Guidelines - 2015
---
Music / Technical Categories
RAMI Members click here to login
Round One Nominations - 8/4/2015 to 9/26/2015
Round Two Ballot Selections - 10/5/2015 to 11/28/2015
Voting - 2/14/2016 to 3/19/2016
---
Recording Nominations Accepted through January 31, 2016
Click here to download a recording nomination form
---
Community Service, Lifetime Achievement & People's Choice Nominations are open to the public through 11/26/2015
Community Service Online Nomination Form
Lifetime Achievement Online Nominatons Form
People's Choice - Artist of the Year Online Nomination Form
People's Choice - Favorite Radio Station Online Nomination Form
People's Choice - Favorite Venue Online Nomination Form
People's Choice - Favorite Special Event Online Nomination Form
---
Tracy Silverman
2010 Outstanding Achievement Winner
---
The RAMI Organization
Each year the RAMI organization hosts several events to help fund the Gary S. Wilmer RAMI Music Scholarship and to promote the local music community. Our premier event is the RAMI Awards Ceremony which is held in April each year. The RAMI Awards recognize and celebrate the efforts of groups and individuals who have involvement in the local music community. Other events include a benefit, held in March each year, featuring some of the premier retro/pop bands in the area.